Land Of Talk Unveil New Single and Video For "Compelled"
STREAM AND PURCHASE HERE | WATCH + SHARE HERE
NEW LP INDISTINCT CONVERSATIONS RELEASE DATE MOVED TO JULY 31 ON DINE ALONE RECORDS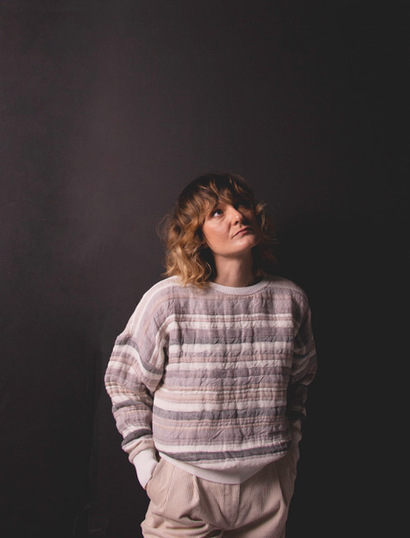 Link to hi-res photo: http://bit.ly/37WwK42 | Photo Credit: Joseph Yarmush
(April 28, 2020) – Land of Talk, the Montreal-based band led by Elizabeth Powell, have unveiled the poignantly pretty second single, "Compelled", from forthcoming album Indistinct Conversations, available for pre-order HERE. Originally planned as a May release, the album will now be released on July 31, 2020 via Dine Alone Records. Powell reveals that "'Compelled' is about being deeply attracted to someone who is in a (toxic) relationship, and wishing things were different." A video to accompany the tender, slow-burning track was shot by Powell and directed by Joseph Yarmush. Stream and purchase the track HERE. Watch + share the video HERE.
"Compelled" debuted in a solo acoustic Instagram live performance by Powell, and the moving, stripped down, archived performance can now be seen HERE. The livestream also featured recent single "Weight of That Weekend" which earned great critical acclaim from outlets including Stereogum ("exemplifies the melancholy beauty that has always coursed through her songwriting"), Consequence of Sound, Paste, NPR Music (NMF playlist), and Brooklyn Vegan, among others.
All 11 songs on Indistinct Conversations were written by Powell (vocals/guitar/keys), and share the hallmarks of the Land of Talk sound: silvery vocals; masterful, at times cacophonous guitar playing; and a stream-of-conscious lyricism—here perhaps at her most emotionally vulnerable and honest. Powell produced and arranged the tracks together with her bandmates Mark "Bucky" Wheaton (drums/keys) and Christopher McCarron (bass), and the trio recorded the album in a studio built by McCarron in Wheaton's apartment basement.
Indistinct Conversations sounds like being set adrift. It's the sound of an introvert at a party, withdrawing into the cocoon of their thoughts while the people around them chatter. Yet Indistinct Conversations is not an album of numbing out. By drawing back into their interior world, Powell was able to emerge with a stronger sense of self — and more willingness to confront the oppressive structures of the world. This process included embracing their identity as a non-binary femme, who uses the pronouns she/they, and engaging directly with the trauma inflicted on them as a "woman-presenting human." Powell describes the album's first single, "Weight of That Weekend," as "a recognition of having been on the receiving end of a lifetime of sexual coercion, assault, boundary violations, and subsequent gaslighting." The song begins with an invocation of abusers who "make me think I don't understand how I'm feeling," rising through dreamy summer-twilight balladry and unexpectedly symphonic horns to become "a prayer for love."
On "Weight of That Weekend," as on many other songs throughout Indistinct Conversations, Powell found themself literally using their voice in a new way — including the guitar, which they call their "first voice." While writing the album, they switched to playing acoustic guitar; an effort, ironically, to take up less space ("I was subletting a place with paper thin walls," she says), which radically shifted the way their songs were structured. Powell credits the album's sonic adventurousness to Wheaton, who "pulled me out of premature retirement."
As Powell stepped into a more authentic sense of self, they increasingly felt comfortable saying more with less, cutting whole swaths of lyrics down to oblique, minimal statements and dropping to a more low-key, almost speak-singing style inspired by Kurt Vile, Courtney Barnett, or Bill Callahan. "I used to think that as a 'female vocalist,' as a 'female singer,' like…'gotta sing high! You've really got to blow your load in the chorus and show people how high you can go,'" Powell explains. "Now it's like, What if I get to the chorus and I don't feel like singing? What if I just kind of want to get something across in very few words? This record is me being a lot more true to what I want to say and how I would want to hear it, not really trying to cater to any preconceived notions of what a woman is 'supposed' to sound like."
That radical self-acceptance, the ability to speak in one's own voice, is the hallmark of Indistinct Conversations. By digging deep, Powell has found a certainty we all deserve: the realization that their own voice is enough.
Land of Talk's 2020 tour dates have been postponed to 2021; more info will be announced soon.
Indistinct Conversations follows 2017's acclaimed Life After Youth—at the time Land of Talk's first album in seven years. The release saw praise from Pitchfork, Paste, The AV Club, NPR Music, Exclaim!, NOW, The Globe and Mail, among others, with its singles earning additional highlights from The FADER, NPR Music's All Songs Considered, New York Magazine's Vulture, Stereogum, Brooklyn Vegan, Bandcamp, WXPN, and more.
Read an essay on Land of Talk and Indistinct Conversations by author Heather O'Neill HERE.
Artwork by Regina Giménez
Link to Indistinct Conversations LP Artwork: http://bit.ly/3c4F2u8
Indistinct Conversations tracklist:
1. Diaphanous
2. Look To You (Intro)
3. Look To You
4. Weight of That Weekend
5. Love In 2 Stages
6. Compelled
7. Footnotes
8. A/B Futures
9. Festivals
10. Now You Want To Live In The Light
11. Indistinct Conversations